Title:
SIGN
Artist:
Paxson, Edgar S. (1852-1919)
Medium:
Pen and Ink
Date:
ca. 1880-1906
Source:
Stenzel Collection
Object ID:
X1964.11.25
Description:
Paxson's wife, Laura, and their three year old son, Loren arrived in Montana with Robert, Edgar's brother in the spring of 1878. They traveled by the Union Pacific Railroad from New York to Ogden, Utah, then by stage to Deer Lodge. In a short time Laura made herself and her family at home in a house Edgar had rented in preparation for their arrival.

It was in Deer Lodge where Paxson found that he could make a living as a sign painter. However, making a living in Deer Lodge was difficult and in 1880 he moved his family to Butte where he continued sign painting. In addition to sign painting he developed a business relationship with theater producer John Maguire.
Click to Enlarge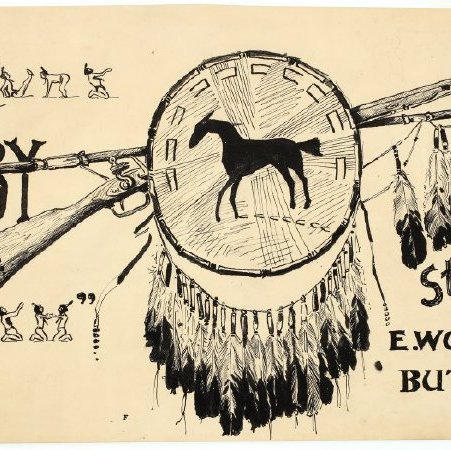 Drawing, pen & ink, X1964.11.25